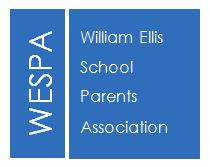 The William Ellis School Parents Association (WESPA) welcomes all parents, carers, teachers, staff and friends of the school. WESPA plays an active part in school life at William Ellis and it's a great way to get involved with the school, get to know each other and join in with some fun social and fundraising events.
WESPA update
WESPA has a policy of being broadly guided in our grant making by the wishes of the students as expressed through their representatives on the Student Council. Our short, medium and long term 'wishes' from the boys include raising funds for:
Please CLICK ON THE LINKS for further information about our fundraising goals and how you can donate. Your generous support helps broaden the students' horizons!
WESPA fundraising Summer 2019:
We have a match-funding pledge of £5000 for the Music Department, £3500 for the Art Department and £1000 for Food Tech, so every £1 donated online at Virgin Money Giving will be doubled off-line to help us reach our target.
Thank you to all who are using easyfundraising to raise FREE donations for WESPA – over £330 has been raised so far! Sign up at: https://www.easyfundraising.org.uk/causes/williamellispa/ and click 'support us'
Follow us on Instagram: @william_ellis_school_pa
WESPA - what do we do?
Our purpose is to organise activities that can benefit the school by raising funds to pay for things like school outings, sports equipment, educational visits from music and theatre groups, and better play and learning equipment — things that add value for the pupils and would be beyond the normal budget of the school.
Throughout the year we organise a variety of enjoyable events for the whole school community, including the Quiz Night, Spring Shindig, Fun Run and Winter Raffle. We raise thousands of pounds each year and help with school events including drama, music and sport as well as with the maintenance of the school's residential centre at The Mill.
We also provide refreshments at school events such as concerts, plays and parent evenings.
Forthcoming Events:
WESPA meeting, autumn 2019, Learning Resources Centre. All welcome! Please come along to discuss plans for the rest of the term and beyond
Sponsored Fun Run - autumn 2019. All proceeds to the Sports Department!
Uniform Swap - autumn 2019
WESPA Pop-Up Shop - December 2019
Winter Raffle and Winter Entertainment Evening - December 2019
WESPA Quiz Night - Spring 2020
Spring Shindig - Spring 2020
WESPA fundraising
Over the years, WESPA funds have been used to develop the Biology and Science Laboratories, the Art Rooms, the Computer Rooms, and the Library Extension. WESPA has supported the purchase of sound and lighting equipment in the School Hall, sports equipment for the Multigym and the Sixth Form Centre and has contributed to The Mill Residential Centre. We work with the Student Council to support the boys with projects that they believe are important such as basketball hoops and balls and playground improvement.
How to get involved
While your children are at William Ellis we hope that you will find a little time to support WESPA. It's a great way to meet fellow parents and carers as well as a chance to get to know the school and staff a little better. Helpers are always needed at events and new ideas are always welcome. You can keep in touch by adding your name to the WESPA email list.
Just send an email to Marion Lester-Card, WESPA Chair (mariononemail@gmail.com).