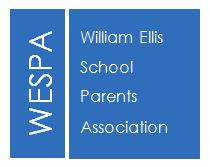 The William Ellis School Parents Association (WESPA) welcomes all parents, carers, teachers, staff and friends of the school. WESPA plays an active part in school life at William Ellis and it's a great way to get involved with the school, get to know each other and join in with some fun social and fundraising events.
Just send an email to Marion Lester-Card, WESPA Chair (mariononemail@gmail.com) to join the mailing list.
WESPA - what do we do?
Our purpose is to organise activities that can benefit the school by raising funds to pay for things like school outings, sports equipment, educational visits from music and theatre groups, and better play and learning equipment — things that add value for the pupils and would be beyond the normal budget of the school.
Throughout the year we organise a variety of enjoyable events for the whole school community, including the Quiz Night, Spring Shindig, Fun Run and Winter Raffle. We raise thousands of pounds each year and help with school events including drama, music and sport as well as with the maintenance of the school's residential centre at The Mill.
We also provide refreshments at school events such as concerts, plays and parent evenings.
Forthcoming Events, Spring Term 2020:
WESPA Working Weekend at The Mill - 13-15 March 2020. London transport leaves from outside the main gate of William Ellis School at 18.30 prompt on Friday 13 March. Let the Warden of The Mill know if you would like to volunteer (adults and over 16 year-olds only): https://themillforestgreen.co.uk/volunteers
Spring Shindig - Friday 27 March 2020. A popular bands night with performances by students and staff, with food and refreshments in a 'jazz-style' setting. All welcome. Adults £3 on the door, children free.
WESPA Meeting - Tuesday 28 April 2020, 6pm. Learning Resources Centre. Everyone welcome, please come along!
Uniform Swap at Parents' Evenings throughout the year
Summer Term 2020
International Food Festival & Music Evening - Friday 12 June 2020. Cooks, musicians and helpers needed! Please email mariononemail@gmail.com
WESPA Working Weekend at The Mill, 19-21 June 2020
Quiz Night - Friday 26 June 2020
WESPA Arts & Crafts Fair - summer tbc
Uniform Swap at Parents' Evenings throughout the year
Autumn Term 2020
WESPA Sponsored 5K run
Meet the Parents - Please pencil in your diaries for autumn 2020. Meet the Parents is a pioneering scheme to give primary school parents the inside story on their local secondary schools by hearing first-hand from families currently at local comprehensives. In the seven years that the scheme has been running in Camden, the talks have won over scores of parents to staying local rather than sending their children to schools outside the area. Each child brings a boost to the secondary schools' budgets and strengthens the local community. It can be a good experience for your son to speak in front of a group and answer questions. Each student is given a cinema voucher as a thank you! https://meettheparents.info
WESPA Working Weekend at The Mill, 9-11 October 2020
WESPA Arts & Crafts Fair - winter 2020 tbc
Winter Raffle & Winter Entertainment Evening - December 2020
Uniform Swap at Parents' Evenings throughout the year
WESPA fundraising
Over the years, WESPA funds have been used to develop the Biology and Science Laboratories, the Art Rooms, the Computer Rooms, and the Library Extension. WESPA has supported the purchase of sound and lighting equipment in the School Hall, sports equipment for the Multigym and the Sixth Form Centre and has contributed to The Mill Residential Centre. We work with the Student Council to support the boys with projects that they believe are important such as basketball hoops and balls and playground improvement.
Thank you to everyone who donated on-line, attended events, sold raffle tickets and baked cakes, raising over £10,000 during the 2018-2019 academic year. In addition, we are very grateful to the Birkbeck and William Ellis trust for granting WESPA £9,500 in match-funding towards the Music Department, Art Department and new Food Tech Lab.
How to get involved
While your children are at William Ellis we hope that you will find a little time to support WESPA. It's a great way to meet fellow parents and carers as well as a chance to get to know the school and staff a little better. Helpers are always needed at events and new ideas are always welcome. You can keep in touch by adding your name to the WESPA email list.
Just send an email to Marion Lester-Card, WESPA Chair (mariononemail@gmail.com).