2019 – a year of success for sixth form!
We are proud to share this year's Key Stage 5 results. Nearly three quarters of our students achieved a grade A*-C, and the overall pass rate for A Level qualifications was 99%. Cause for celebration indeed, especially as this marks a significant improvement on last year's results, and an improvement on our long term trend of results in the high 90%s.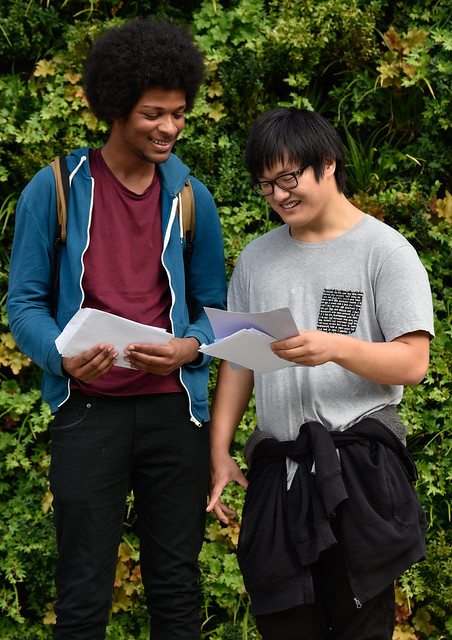 15% of exam entries resulted in grades of A* or A, with some students only receiving these top grades! Examples include Abel Ayettey and Daehurn Kang. Abel achieved A*s in Maths and Further Maths, as well as an A in Physics and is now set to read for a degree in Maths at Oxford University. Daehurn achieved an A* in Chemistry, as well as As in Computer Science, Maths and Physics and will begin his Chemistry degree at Imperial College this autumn. Both have been model students since joining William Ellis in Year 7. Chhaya Lad achieved two As – well above her target grades of Cs, and will be taking up a place at Nottingham Trent University to study Product Design.
Abel and Daehurn compare results!
27% of our students studying for vocational courses also achieved the top grades of Double Distinctions (some with one, or even two, stars!). One of these star students is Mohammed Ollie, who is shortly to start a degree in Biomedical Sciences at Brunel University. He says this about his experience of being a student at William Ellis School:
"The environment that we're in, in terms of our learning is supportive and encouraging – we are all pushed to the top of our ability. Everyone is connected: the teachers and the students are all concentrating on one thing – to make sure that we achieve success. The communication between the teachers and students is very well established, and that makes sure that the students, as well as the teachers, know where they're at and how to improve."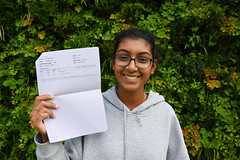 Chhaya, who came to LaSWAP from Camden School for Girls, is going to Nottingham Trent to study Product Design. She gained A grades in psychology and product design and a C in maths.
We are also very proud of our students pursuing courses at the Talacre Sports Centre, including Kymarley Small who will be starting a course in Sports and Leisure Management at Loughborough College in September and Luke Apata, who will be studying Sport Rehabilitation and Conditioning at the University of Northampton. Kymarley says: "This course has allowed all of us to have so many opportunities I never thought I would have: working in a primary school, running a football club, gaining employment with Camden.". Leke Demaj said that studying at Talacre had been "life-changing: it has put me on a path I didn't think I would ever be on."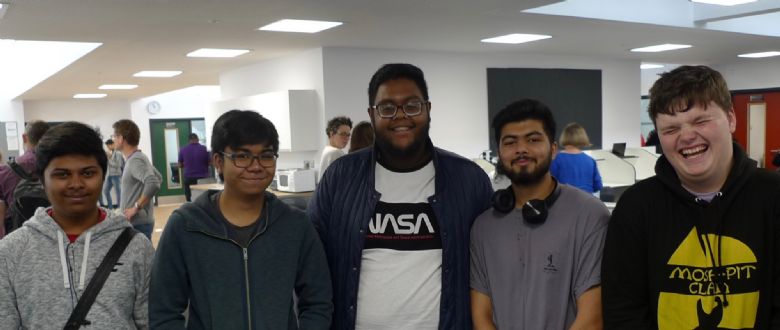 There are always some students of whom we are particularly proud, because of the way they have overcome adversity and problems experienced during the course. This year, these include Rio Wright, who achieved a double distinction in L3 BTEC Applied Business. This is a superb result for anyone, but especially for Rio who has overcome some really difficult issues, including a period of insecure housing.
William Ellis boys, Abdel and Dante
Seven years at WES - Well done boys!
Abdel: Distinction Merit in Applied Business and B in Media
Dante: Maths A, History B, Economics B
Rea Bexheti, who joined WES at the beginning of Y13, and achieved ACC in her A Levels of Sociology, Psychology and Business, says:
"I really enjoyed my time at the school. I found all the teachers were really helpful and caring and took a real interest in making sure we all achieved our best. I only started this year, but from the beginning of my time at LaSWAP, everyone has made me feel really welcome. I am excited about starting my studying of law at Brunel this year, knowing it has been made possible by my time at LaSWAP."
Well done to all our sixth form students – we are really proud of you, and the work you put in, to achieve the results you have! Thank you to the staff at WES and across LaSWAP for supporting this success.
For more information, please contact: Flora Wilson, Director of Sixth Form at William Ellis: fwilson@aclandburghley.camden.sch.uk