The Poetry Competition Winners
In the Autumn term Mr DiFusco organised a House Poetry Competition.
Students were asked to submit an original poem and at the end of term staff were asked to vote for their favourites.
The competition had lots of interesting and intriguing poetry but the final winners were Lauderdale House with winning student Chun. Below is a list of all the entrants and winning poems.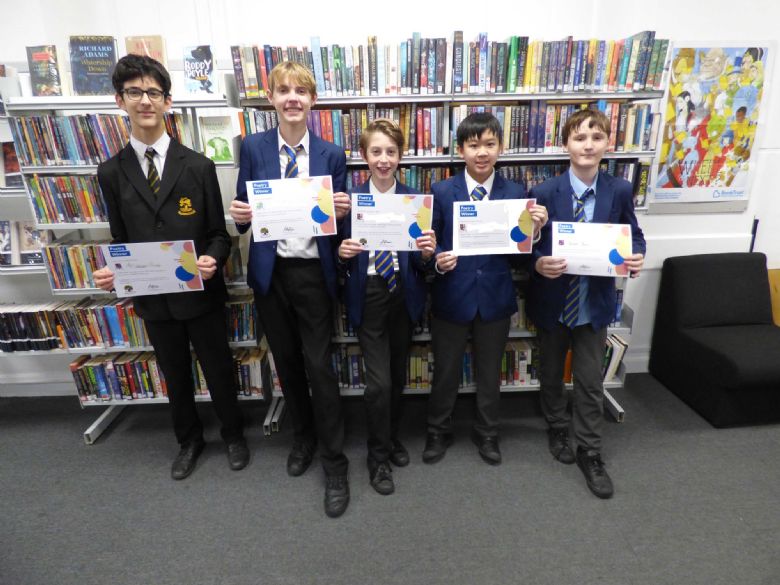 ​
Lauderdale House
---
Entries from: Jacob, Tom, Archie, Chun, Finley, Michael, Aidan, Erin, Noureddine, Nathan, Gjin, Leon and Gabe


---
Winner: Chun
Runners up: Erin, Leon, Gabe
---
Winning poem:
Unfinished
By Chun
A bunch of unique drawings,
All wrapped up in one
Single piece of paper.
I would ponder what these ideas are,
But for myself, I am different.
What could I possibly be?
In fact, I am naught – zero.
I am the unfinished space
That you cover me with.
Imperfect and awfully shaped
It makes life more,
Challenging…
These random ' things' you see
Left alone and erased
As I take back my space.
But it helps me too!
Because there is no finished
Without the unfinished…
---
Keats House
---
Entries from: Cameron, Connor, Marco, Liam, Farish, Stirling, Santi, Rabbi, Akar and Aaron
---
Runners up: Connor, Thomas, Cameron
Winner: Marco
---
Winning poem:
The Diverse City
My city has two sides,
As does every story.
Some people have got everything
That they like
And other will have to fight for it.
I am hopefully optimistically pessimistically realistic
But my characteristics are mystically going ballistic
Over the injustice of this.
I cannot drown out the thoughts in my head,
If we are all equal, then
Why can one man sleep peacefully within his bed, W
While another doesn't even
Have a roof over his head?
---
Fenton House
---
Entries from: Ari, Leeroy, Michael, Alex, Naveid, Jake, Saim and Anish
---
Winner: Ari
Runners up: Alex, Michael, Saim
---
Winning Poem:
Reminiscence of Tel-Aviv
Morning!
The bountiful pigeons arouse the city
A white, worn-off truck passes by
As I lend my ear to the city and the city only
I can feel the urban livingness being summoned
Almost like an instinctive, ritual cycle
Every individual out in the streets
Every crow on its daily leftover feast
Every single step sounds of amplification
The relentless sun beams tapping on my back
And the tourists marching on the terrifically dirty sidewalk
The awesome neglect that surrounds me
And the noble blue skyscrapers
Superseding hundreds of diminishing small houses
The eminent feeling of elaborate imperfection
Bound to every single tower, tree, traffic light
The urge to kiss the land in its fair terms
The languid waves of the leaden sea
Crushing one after one into beaches of plain beige
Forcing the beholders to stay and watch
The mannerly adrenaline in air
Featuring the charm of the infinite nightlife
And the infinite-seeming night hike
Accompanied by the sober wind
The sound of a school bell nearby
Still stuck in my head as if it was yesterday
It's the people I used to acquaint
The fun sound of motorbike extravaganza
Mounted by their old, sluggish drivers
On a peaceful Shabbat morning
And all those nostalgic pieces of reminiscence
Which slowly fade away from my identity
Hello Tel-Aviv
And as it happens,
Goodbye Tel-Aviv
---
Burgh House
---
Entries from: Max, Pablo, Omar, Jack, Suliman, Tyler, Amar, Jonah, Danny, Isaiah, Daniel, Zakiyy, Frederico, Emile and Zac
---
Winner: Daniel
Runners up: Jonah, Danny, Pablo
---
Winning Poem:
If I would say the word ocean,
You would say blue.
There is a lot more than that –
The creatures that lurk the depths
Or the wrecks that make you wonder.
If I say the word land,
You would say home.
There is a lot more than that –
The ruins that make up time
Or the volcanoes pouring down with molten lava.
If I say the word air,
You would say sky.
There is a lot more than that –
The birds that see the whole world
Or the peaks of mountains standing tall.
If I say the word Earth,
You would say planet.
There is a lot more than that –
The weathers make up unnatural events
Or shapes that confuse us all.
If I said the word human,
Now you would wonder.
---
Willow House
---
Entries from: Mohamed, Teddy, Adam, Jack, Alex, Mohammed, Archie, Andy, Piotr, Stefano and Ben
---
Winner: Archie
Runners up: Alex, Ben, Piotr, Adam
---
Winning Poem:
The Boy
Don't worry it's not gory,
As it's not a horror story,
But we should look into these stories.
So you guys all on your phones,
Take a look at the people who are truly alone.
On Monday he stood with all the other kids,
Fighting. Playing. Talking.
Just being annoying.
He laughed and joked about his day,
But no one thought to say,
Are you okay?
On Tuesday he didn't talk,
to all the other folk.
We raised our hands and copied it all down.
Although we never cared,
For the boy who never shared.
On Wednesday, there was a seat.
It was lonely and bare,
But did anyone care?
No was answer.
As we didn't see the boy who was slowly drifting out to sea.
On Thursday he sat still, but he wasn't ill.
He just sat away,
Including from his so called 'friends',
Acting like a bunch of clueless hens.
On Friday he once again came in,
But looked like he'd committed a sin.
In class he didn't mutter a stutter.
In P.E. he never got changed,
And if he did he stood in shame.
However, if you think about this,
He was just any other kid,
In a class full of kids.
But did anyone talk to him?
But did anyone ask him?
Did, anyone help him?
Did anyone know what was
Happening
To him?
---
Thanks to all the students who got creative and took the time to write a poem.
---