School Events Coming up
Thursday 3rd November
Year 7/8 Rugby at Wood Green: 3pm
Year 9 Parent/Teacher Meetings: 4.30pm
Mon 7th November – Remembrance Week
Shakespeare Schools Festival workshop
Tuesday 8th November
English Speaking & Listening assessments
Year 11 Maths Enrichment at Highgate School
Art on the Underground Trip: 11am
Year 12 Parents' Information Evening: 6pm
Wednesday 9th November
Shakespeare Schools Festival Performance
LaSWAP Film & Drama Workshop, Regents University: 12.30pm
Thursday 10th November
LaSWAP Film Studies Trip to Regent Street: 8.30am
Y8 & 10 Rugby fixture, Acton: 1pm
Performance Platform Concert: 3.30pm
Governors' School Improvement Committee: 5.30pm
Fri 11th November
Armistice Day (2 minutes' silence)
Monday 14th November – Anti-Bullying Week
Jack Petchey Awards Ceremony Ceremony, Camden: 7pm
Tuesday 15th November
Deep Learning Day
LaSWAP Enrichment Day
WESPA Meeting: 6pm
Thursday 17th November
LaSWAP Open Evening at Acland Burghley School
Year 7 day trip to Boulogne – October 2016
"I think that France was spectacular and the snail farm was amazing as not only did we get to eat the snails but we got to hold them as well as put them on our faces.
The chocolate factory stood out to me quite largely as we got to design our own chocolate bar. But the best bit was buying the chocolate. Finally, one of my most favourite parts was going around the town by ourselves." Adam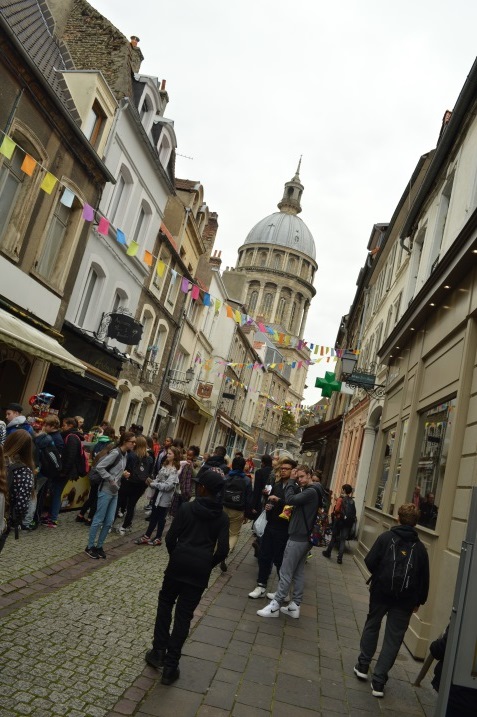 "I liked the chocolate factory because they told me a lot of stuff about chocolate. I also liked the snail farm because the snails were nice and they told me a lot of facts about snails in FRENCH!"
Drin
"The French trip to Boulogne was a mix of feelings. We started off the day by meeting on the coach and then we began to drive. On the bus we had a range of things to do: play on our phones, listen to music, talk, and of course sleep.
After we got of the Eurotunnel, we went to the chocolate factory where we bought sweets and chocolate. We left to go the old town of Boulogne. In the old town we bought souvenirs and had lunch. We then drove to the snail farm. I bravely ate one and nearly threw up! That was the end of our adventure in France."
Oscar and Aaron – 7K
William Ellis 5k Run – 2016
Year 7s on the heath for the final 2016 fun run superbly organised by WESPA and the PE Department.
Thank you to WESPA and all the boys and their families who raised sponsorship money and a special thank you to Benham & Reeves who donated £250 to sponsor this event.
The fund-raising focus chosen by the boys is Camping Equipment for use at The Mill, Duke of Edinburgh etc. Full details of winners and amount raised to feature in next newsletter.
Open Mic!
The final day of term saw the talent of LaSWAP and Ellis entertaining the WES boys over lunch. There was also a surprise performance by Mr Glover.
LaSWAP Student Luke entertains some rather serious WES boys.
School Office Message
All lost property was laid out in the Learning Resources Centre on the last day of the half term for boys to come to claim anything lost so far this year.
All remaining items have either been donated to the WESPA Uniform Swap Shop or taken to the charity shop.
A reminder that all uniform, coats, bags and PE kit need to be labelled with your son's name to avoid the possibility that they get lost forever.