School Events Next Week:
All Week: Geography Field Trips to The Mill
Monday 17th October
Year 10 Travel & Tourism to Thorpe Park: All Day
Tuesday 18th October
Headteachers from schools in Calderdale visiting: 9.30am
NO HOMEWORK CLUB
Wednesday 19th October
Spoken Word performer visiting Year 9 LAMDA: 8.50am
Dogs Trust Workshop: 1215pm
Music Aptitude Test for Year 6 pupils 4.15pm
Thursday 20th October
Year 11 GCSE Drama Trip to Unicorn Theatre: 12.15pm
Year 7 Fun Run on Hampstead Heath: 2pm
Year 10 Rugby Fixture, Allianz Park: 3pm
Year 7 & 8 Rugby Fixture, Wood Green: 3pm
Year 11 Action Tutoring Sessions: 3.20pm
Friday 21st October
Years 8-10 Shakespeare Schools Festival Workshops: 8.50pm
Open Mic. Rock Band, Hall: 1.15pm
Lost Property Reconnect, LRC: 3.10pm
Half Term Holiday (24th-28th October)
Coming Up:
Thursday 9th November
Year 9 Parent/Teacher Meetings: 4.30pm
Open Evening and Mornings for boys transferring to secondary school
Our open evening and mornings have been well attended by primary school boys and their families visiting schools in preparation for secondary transfer next year. Very many of our boys have been great ambassadors for the school during the events: welcoming parents, taking them on tours of the school, pointing out items of interest in classrooms (see below!) and by making presentations as part of the headteacher's talk. Their communication skills have been well tested by the many varied questions from our visitors.
School Office Messages:
Lost Property
This first half term has seen an extraordinary amount of lost property piling up in the PE and main office. In order to try to find the owners of all the lost property the school will be holding a special event on the last day of this half term immediately after school in the Learning Resources Centre for boys (and parents) to come and look through the items and reclaim. Anything left will be taken to a charity shop. We must stress that it is important for all property to be labelled with your son's name. A permanent marker pen can be used to do this.
Visiting the Office
A number of parents are visiting the school office during the school day asking to see teachers without an appointment. Can we remind parents that most of the teaching staff will be busy attending meetings and teaching classes from 8.20am, throughout the school day and often after 3.30pm too, and therefore can't be available to see you. To avoid a wasted journey, if you would like an appointment with a member of staff, please do either email them directly (all email addresses are on the school website) or wait till after school to telephone the teacher. The main school switchboard closes at 4.30pm but you can contact them on their direct lines as well. The school office is of course willing to pass on messages. Thank you.
JAMIES FARM
A group of twelve pupils across years 8, 9 and 10 spent last week at Jamie's Farm. At this working farm on the outskirts of Bath, pupils swapped phones and junk food for a healthy country lifestyle. The boys had the opportunity to feed animals, log chop, cook with a trained chef, collect ingredients from the garden, herd sheep, feed animals and take part in many more activities. We were extremely proud of how the boys threw themselves into farm life and hope that the boys continue to reflect on their experience and use their new skills now that they have returned to school.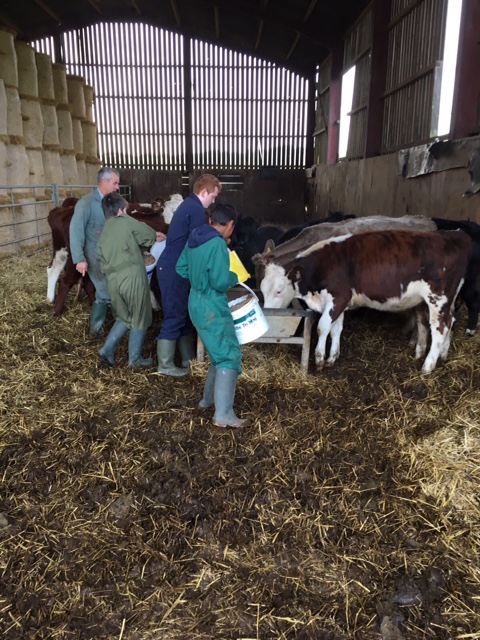 Volunteering in Tanzania during the summer
Miss H Jones, our Head of History, spent four weeks of her summer holidays training 142 Tanzanian teachers as part of a project run by Limited Resource Teacher Training. Throughout the project, Ms Jones worked with a range of teachers across a wide spectrum of schools within Tanzania and had a small taste of what it is like to teach and learn in a limited resource context. Ms Jones would not have been able to take part in this project without all the generous donations from supporters of our school-many thanks for your generosity.
Bake off
A big thank you to all parents for helping the boys to make cakes for this event and to all those who came along during a recent lunchtime to try out the cakes.
Results as follows:
1st – WILLOW
2nd – FENTON
3rd – KEATS
4th - BURGH
5th – LAUDERDALE
Other house competitions this term have included the European Day of Languages student quiz, a staff quiz and lunchtime house football tournaments.
African Dance Workshop
Last week, to mark the start of Black History Month, Mr Pratt hosted an African Dance Workshop with a group of year 7s that explored some of the traditions and rituals of the Zimbabwean Shona tribe.
It was led by Bawren Tavaziva, whom the school has worked with before.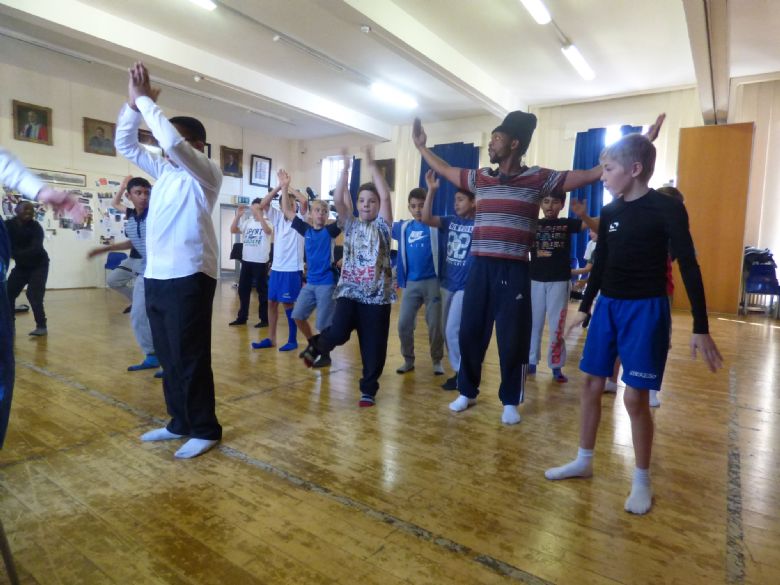 William Ellis 5k Run – 2016
Years 8 and 9 have now completed their runs and the Year 7 run is scheduled for Thursday 20 October at 2 o'clock.
The fund-raising focus chosen by the boys is Camping Equipment for use at The Mill, Duke of Edinburgh etc.
There will be individual and House prizes for those who run the furthest distance and collect the most sponsorship money.
WESPA will need parents to volunteer to help out on the day and of course to come along and support the boys.
Message from Anna Wright (Chair, WESPA)
Thanks to those of you who came along to our first WESPA meeting of the new school year.
If you couldn't make the meeting don't worry! There are plenty of ways to get connected………read on!
How to get involved:
We need helpers to join teams who organise our different activities throughout the year. And there are ways to help even if you can only spare a little time. For example, you might be attending a school event because your son is performing. If so, why not lend a hand helping us serve the drinks in the interval?
Have a look at this list to get an idea of the different ways to get involved and support WESPA
I could lend a hand with the Winter Raffle (finding prizes, selling tickets etc
I could help organise the Sponsored 5K Runs next year
I'd like to get involved with organising the Spring Shindig' Concert Event
I can help with the Table Top Sales
I am interested in helping with the Uniform Swap and Recycle service
My son is a musician and I could help serve drinks at school concerts when he is performing
I can help out at the occasional school event when WESPA is serving drinks
I don't have any spare time at all but I might be able to help now and again
I'd like to make a monthly contribution of money to WESPA because I want to show my support but won't be able to help in person
There must be something on this list that works for you. So please contact us and let me know: williamellispa@gmail.com
Remember – every penny we raise goes to fund things for the boys that the school budget cannot cover. We pay for things that have been requested by the boys through the Student Council or by staff and that will improve the educational experience for your sons. Have a look at the great new green space and seating pods in the playground to see the results of our efforts last year!
Overview Year Planner/Diary dates for 2016/17
Here is a list of WESPA diary dates as far ahead as possible. Please make a note of these. In some cases we know that an event is planned but don't have a confirmed date yet – so I've included these to give a general idea. There will also be some other activities and dates that crop up nearer the time. But at least this is a start!
Upcoming WESPA Events:
Thursday 20th October – Year 7 boys 5K Sponsored Run on the heath
Tuesday 15th November – WESPA meeting at 6pm (Annual General Meeting)
Tuesday 29th November – LaSWAP Winter Concert
Early December during school lunch breaks – WESPA "Pop-Up" Festive Gift Shop (dates to be confirmed)
Saturday 10th December – Winter Table Top Sale and Uniform Swap/Recycle Stall
Wednesday 14th December – Winter Entertainment Evening and Raffle Draw
Tuesday 24th January – WESPA meeting at 6pm
February (date TBC) – Quiz Night
Tuesday 7th March – WESPA meeting 6pm
Friday 17th March – Spring Shindig' concert
Saturday 1st April – Spring Table Top Sale and Uniform Swap/Recycle Stall (date TBC)
Tuesday 13th June – WESPA meeting 6pm
Tuesday 20th June – LaSWAP Summer Concert (date TBC)
Saturday 15th July – Summer Table Top Sale and Uniform Swap/Recycle Stall (date TBC)
Please join us and spread the word about our annual NIHR Great Ormond Street Biomedical Research Centre (BRC) Open Day on Saturday 15th October 2016 from 12:30 – 16:30. It is a free family event to get excited about science and child health research: Meet with researchers, listen to seminars and get involved with a number of interactive activities: