Coming up:
Mon 9th Jan:
Year 11 GCSE English Support Meetings with Headteacher – All day
FIRST DELIVERY DATE FOR UNIFORM
Tue 10th Jan:
WES Got Talent – after school
Wed 11th Jan:
Under-14s basketball fixture, Gym (with UCL, Maria Fidelis and ABS) – after school
Thu 12th Jan:
Action Tutoring recommences; Year 8 Parents' Evening – 4.30-7pm; Governors' School Improvement Committee meeting: 5.30pm
Fri 13th Jan:
Year 11 GCSE English Support Sessions (after school)
Mon 16th Jan:
peripatetic music lessons start
Thu19th Jan:
Governors' Personnel & Resources Committee meeting: 5.30pm
THE AUTUMN TERM COMES TO AN END…..
The Autumn Term came to an end on Friday with assemblies for KS3 and KS4 students and staff reflecting on the term and celebrating achievements with the presentation of certificates. Each assembly was rather rudely interrupted by the head of the Performing Arts Faculty, Mr Pratt….but just to introduce to the boys a surprise pantomime - Cinderella, with a star cast of staff. The show was a lovely conclusion to a very busy term and as is traditional for a panto the audience was very raucous. Film rights were bought by Ms Kay Kreizman, Head of Film Studies, and the highlights will be released next term!
The term has been very busy for both staff and students and here are just some of the highlights we'd like to share with you:
WINTER ENTERTAINMENT EVENING
The highlight of the term for parents was our Winter Entertainment Evening on Wednesday. The audience, after refreshment from WESPA, were treated to performances of music, art and drama, a slide show of some of the terms events followed by the grand WESPA Christmas raffle draw. The boys and the Performing Arts Faculty had worked hard to make this one of the best evenings ever. Well done!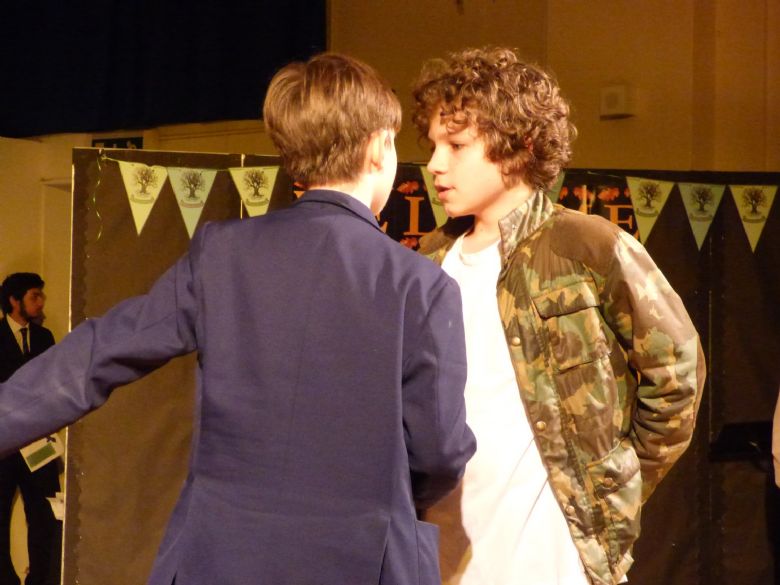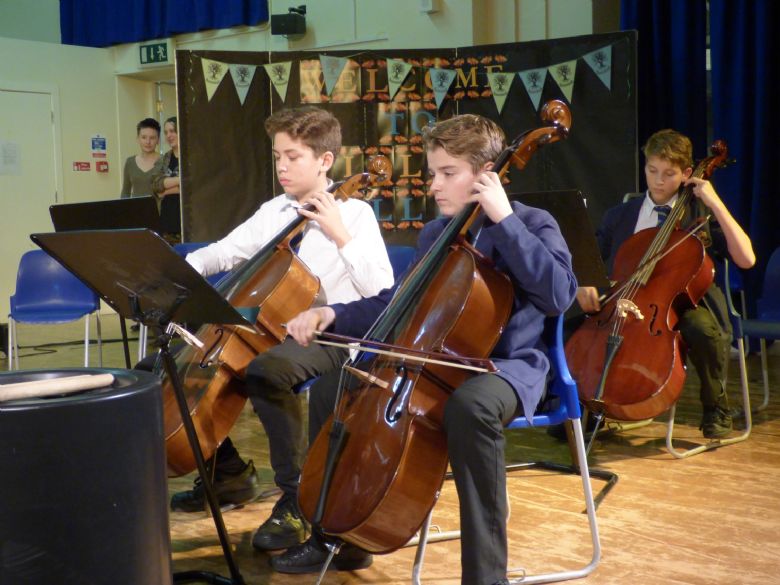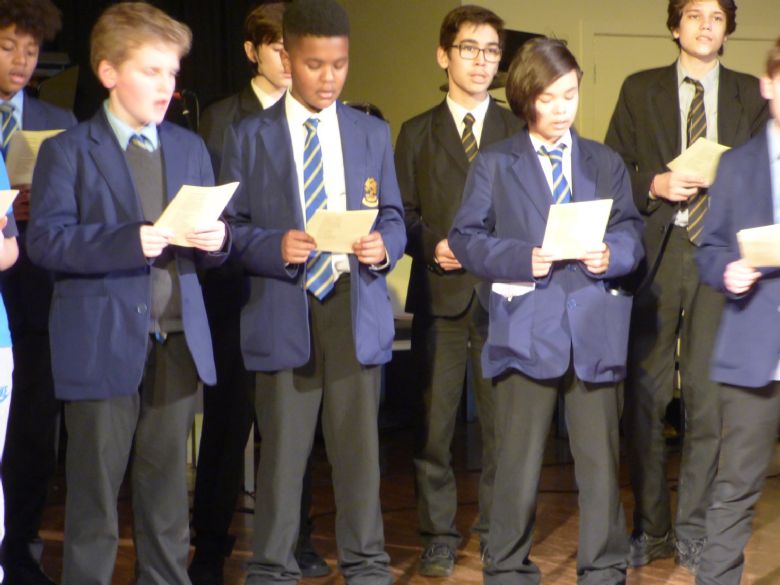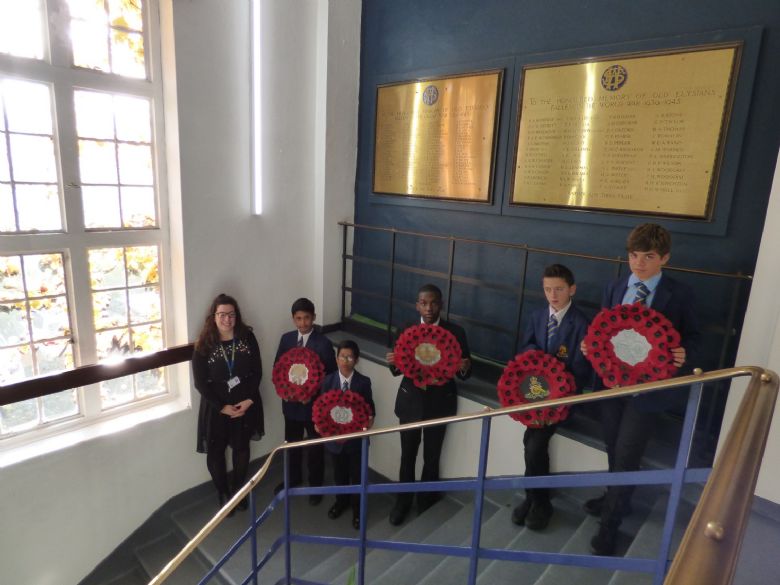 REMEMBRANCE ASSEMBLIES
The start of this half term saw Mr Altmann, Head of Years 7 and 8, leading a series of Remembrance assemblies for all years. The school laid five wreaths, led by Head of History, Ms Jones, in honour of five regiments from which ex WES boys lost their lives during the First World War, followed by the playing of the last post and a two minute silence to remember all those who have lost lives in conflicts throughout the world.
EX STUDENT NEWS – BEN HUMPHRYS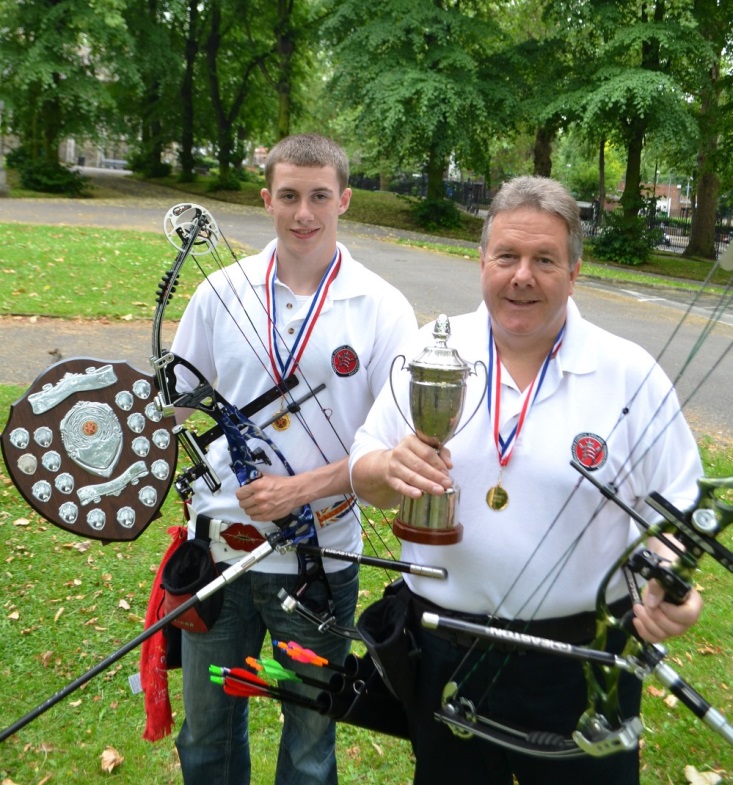 It is always great to hear of the successes of our ex-students. This term we heard from the proud father of Ben (Benjamin) Humphrys (see both above) who has just been honoured in Gloucester Cathedral having achieved a First Class Honours - Bachelor of Science degree in Strength and Conditioning and is now studying for his Master's degree.
Ben represented his School, Borough, County, England & Great Britain in the sport of archery achieving many accolades. While still studying at WES he became a qualified fitness instructor and went on to enrol at Gloucester University. His university dissertation was so good his tutors asked him to present it at the National Strength & Conditioning conference in Birmingham which he did. This work will go on to be published later in the year in the strength and conditioning research journal.
Ben is currently studying for his Master's degree currently coaches Team GB (Dodge Ball) in strength and conditioning as well as an under-18 professional football team and the National Swiss Girls Netball team but to name just a few.
His parents sent the school their appreciation of all the help and assistance given to Ben - especially the PE department staff. We send him our congratulations on his successes and hope to see him at WES for a visit soon.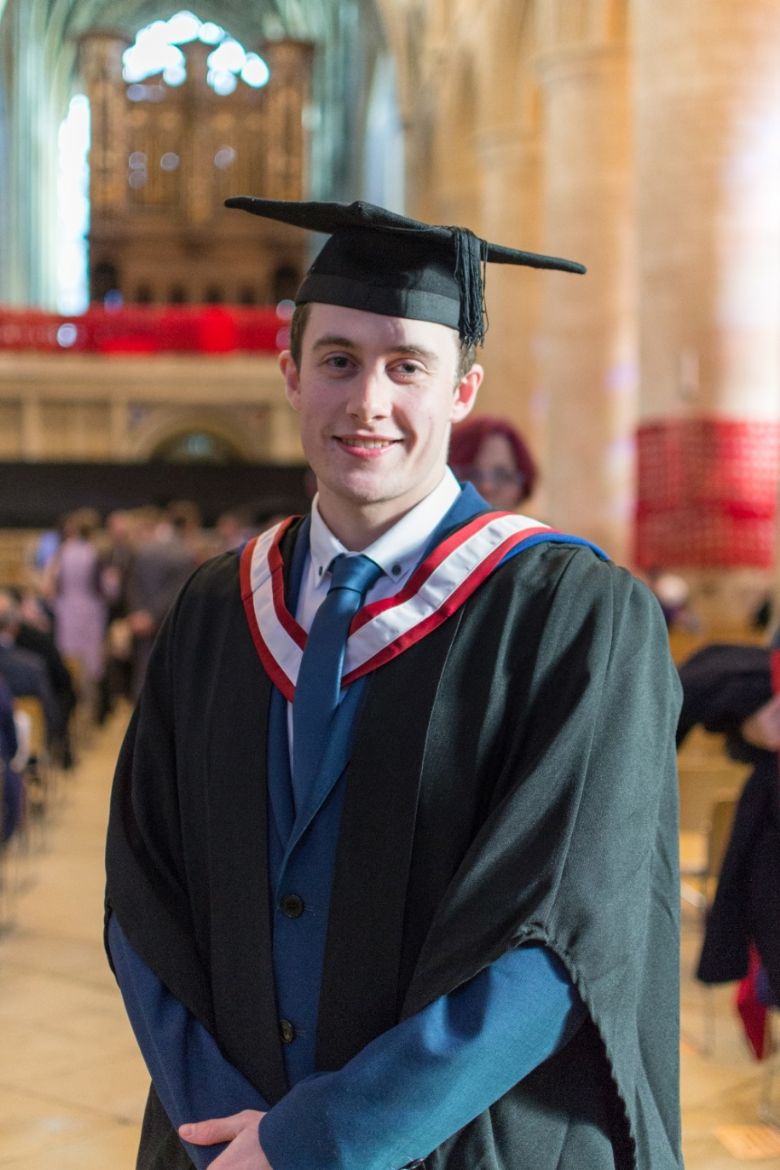 City Year – Visitors from USA and South Africa
Mozamil (9W) and George (9L) joined City Year to host important guests. AnnMaura Connolly, Chief Strategy Officer and Executive Vice President of City Year US and Daylene van Buuren, Executive Director of City Year South Africa. They visited William Ellis School to see our City Year volunteers in action. AnnMaura and Daylene were welcomed by Mozamil and George. Both boys were incredibly hospitable and made every effort to answer all their questions at a round table sessio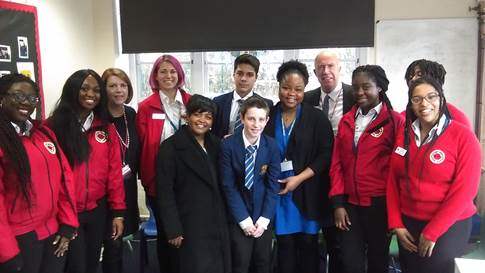 SHAKESPEARE SCHOOLS FESTIVAL
Throughout the term Mr Pratt has coached a talented group of boys in years 8, 9 and 10 with numerous rehearsals for the plays 'Macbeth' and 'Henry V' leading up to special performances at the RADA Studios.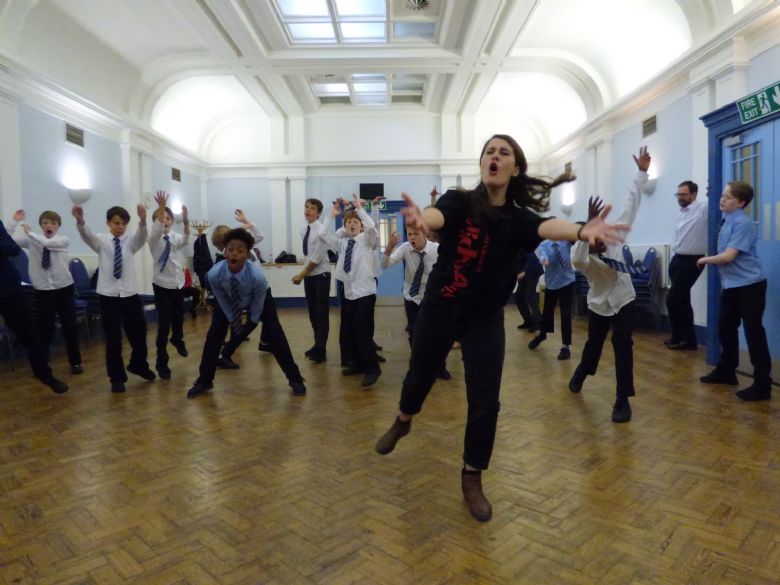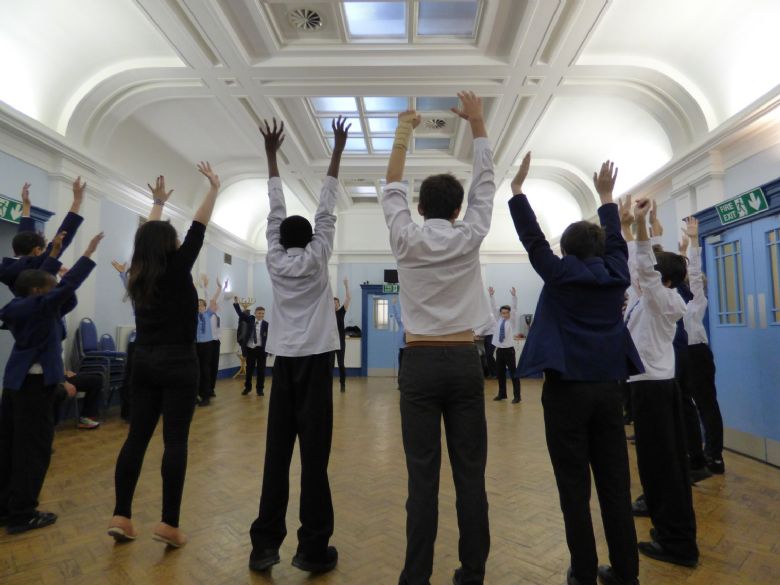 Ms Damms, English Teacher, who went along to see they performances said that "The 'Macbeth' was the best version I have seen; the 'Henry V' was so wittily done." Praise indeed. She went on to praise Mr Pratt for his exceptional job with the performers.
TAKE OVER CHALLENGE DAY
Ms Ozkaya, Student Engagement, took a party of boys for a Camden Take Over day firstly at 5 Pancras Square, the new location for most Camden Council officers, and then to the Town Hall where they had lunch in the Mayor's Parlour. The students found out how local government works and met local councillors and other council members as well as representatives from the Camden Youth Parliament and police. They worked in groups to prepare presentations on topics of interest such as 'stop and search' which they presented in the Town Hall Council Chamber to a panel made up of Martin Pratt, Executive Director Supporting People, the Youth Parliament and councillors – including one of our governors – Georgia Gould. Not only did the students have a day immersed in politics but a chance to hone their presentation skills in a formal but supportive environment.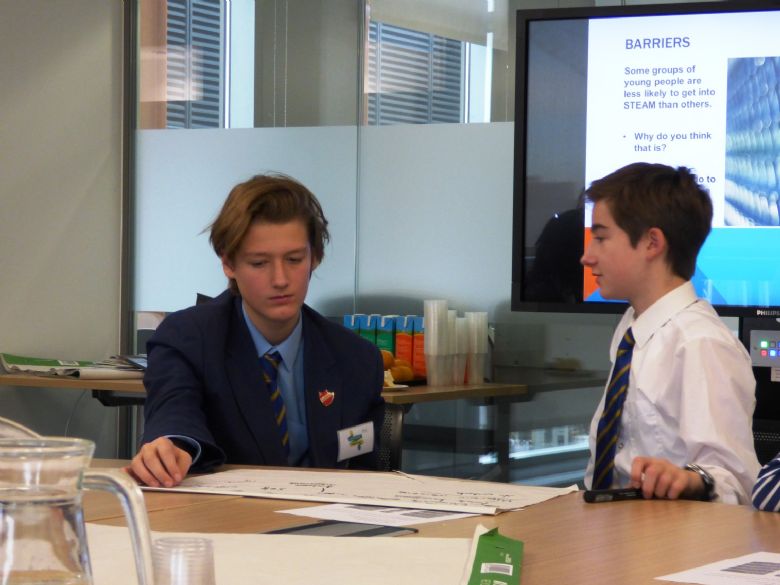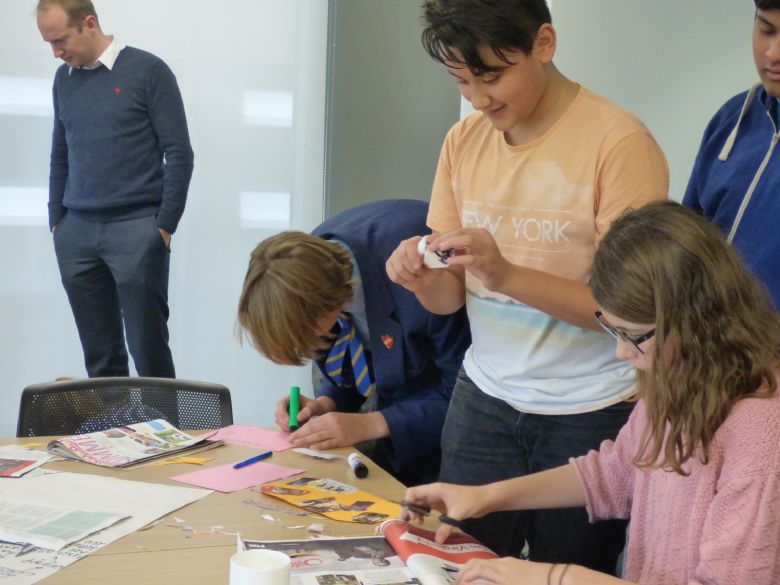 A hardy band of staff has given up a couple of weekends to "rough it" in the Kent countryside in preparation for leading Year 10 students in gaining their Duke of Edinburgh bronze awards later in the new year. All application forms should now have been completed and handed in. A taste of what is to come…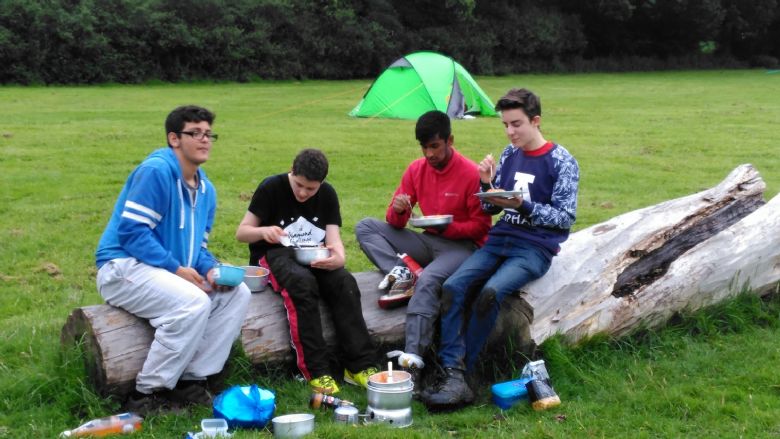 The Music Department, led by Mr Forbat, joined with the other LaSWAP schools for a special concert at St Martins Church, Gospel Oak in late November.
The performances including samba, big band and the new vocal group formed by Mr Singleton, Music Teacher, were a great success and Mr West of Camden Music Service contacted the school to let us know that he thought the performances were the best ever.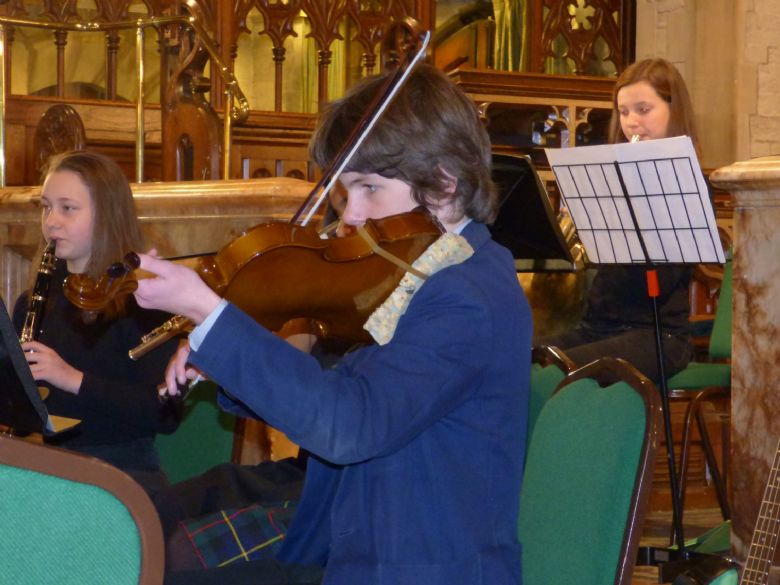 CRAFTING THE LINE
Last year a group of current Year 9s took part in the Art of the Underground project. Their artwork has now been installed at Highbury and Islington Station and appears in a booklet Art on the Underground on display at tube stations. As a reward for their work they were offered a "behind the scenes" tour of Euston Station. They enjoyed exploring secret tunnels and studying maps of the unknown world below our streets!
JACK PETCHEY AWARDS CEREMONY – 14TH NOVEMBER
The Camden Centre hosted a ceremony to honour the winners of the Jack Petchey Awards 2015-6. Winners from WES were Dareen, Nabil, George, Fabian, Mohammed, Michael, Kai, Omar and Daniel.
The Head and members of staff went along to support them. They awarded winners for a variety of reasons from excellent participation in extra-curricular projects such as the Tree of Life Programme to perseverance and commitment to studies after a period of illness. Well done!
SPORTS & ACTIVITES THIS TERM
Year 7:
The football team had a very successful term – they came 2nd in the Camden Shield football tournament and then beat Islington Arts and Media School 11-2 in the Camden and Islington cup 1st round.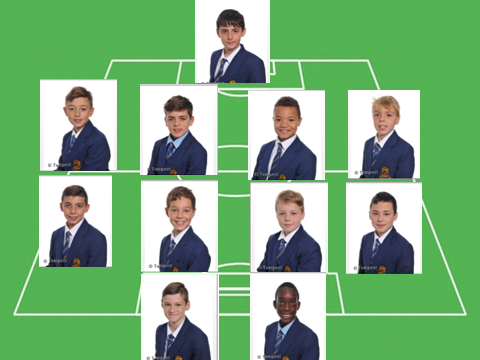 The rugby team had a very promising start to the sport, having competed in several fixtures, improving every match.
The basketball team won a place in the playoffs of the Camden Shield Competition.
Year 8
Football – came 4th in Camden Shield
Rugby – improving with every match
Year 10/11 football came second after a close fought final with Acland Burghley, in the Camden Shield football tournament.
More events to come in the next term - mostly focused on the basketball competition.
YEAR 10 PRINCE'S TRUST X1 BAKE SALE FOR LIFE FORCE
Ms Ward, Lead Mentor, worked with the X1 Prince's Trust group in Year 10 to choose and fundraise for a local charity. The boys chose Life Force – Whittington Hospital's palliative care project for young people and their families with long term illnesses. The boys baked cakes for a break time sale raising £119. They made cards and chose presents to take to the centre just before the end of term.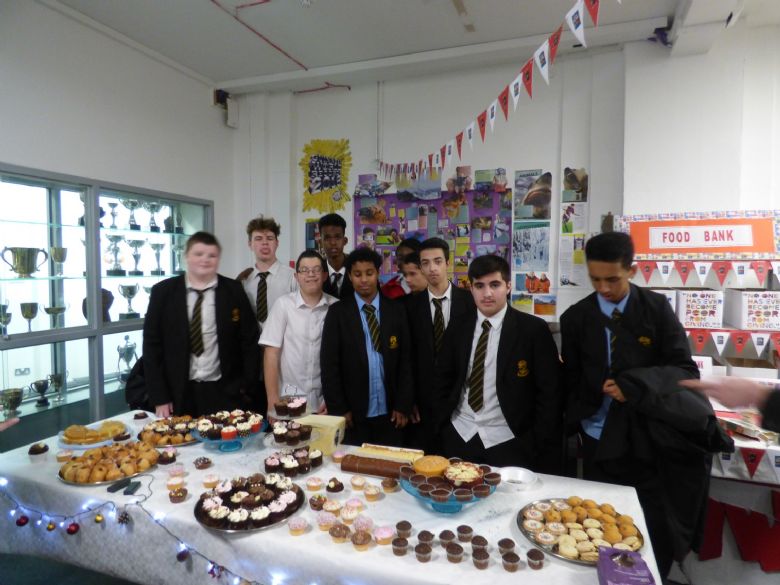 POETRY WORKSHOPS
In association with the Mall Galleries and the Poetry Society, Ms Ozkaya helped host poetry workshops with poet, Simon Mole in the Learning Resource Centre. There will be follow up trips to the Mall Galleries in the West End to get further involved in the project/exhibition "The Art of Storytelling". We are very grateful that a parent has helped the school set up this fabulous project. Participants are shown below telling their own story to their school friends along with Simon Mole who worked energetically with the boys for two day.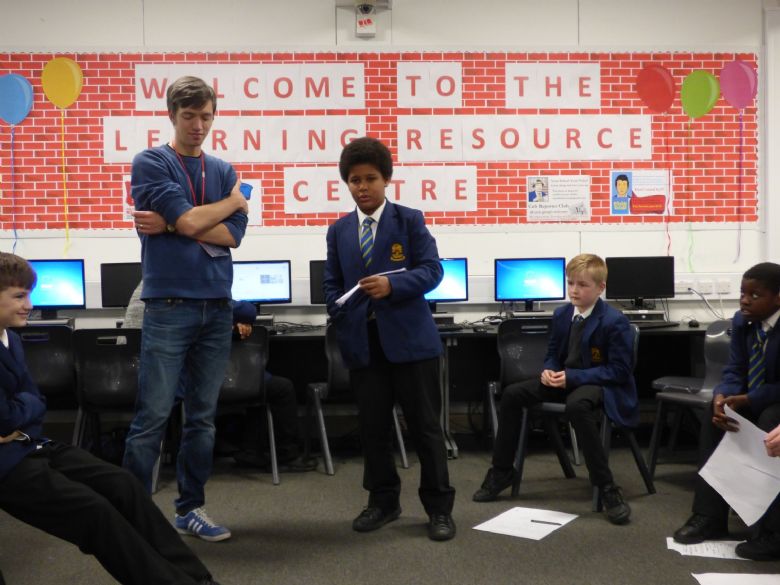 Food Bank - Our Lady Help of Christians
The school collected donations for a food bank specifically to help the homeless from the Kentish town area who will be staying at Our Lady Help of Christians over the Christmas period.
And a selection of other activities this term:
Performance Platform informal music concert – a relaxed environment where boys performed in front of each other and their parents with a mix of song and guitar, bass, drums sax, clarinet, piano cello, trumpet and violin pieces.
Year 10 Speak Out Challenge, with Year 10 winners Jamil and Clement representing WES at the final at La Sainte Union School in front of a crowd of family and friends.
Year 7 Tavaziva Dance projects with performances at end of term.
Jamie's Farm follow up trips to Oasis Farm at Waterloo – further trips next term.
Online Vocabulary game to raise contributions of rice for the World Food programme. The game – called Free Rice – enabled 10 grains of rice to be donated to developing countries for each correct answer. The questions got easier harder as it progressed.
Active reading support – Year 12s reading with year 7 on Tuesday mornings in the LRC.
Anti-bullying week – tutor group sessions.
Year 11 and 12 Mock Exams with external exam invigilators.
Parents Evenings for years 7 (their first ever) and year 9 at WES and Year 12 at Acland Burghley School (ABS) – the best ever attendance from WES parents.
Action Tutoring Sessions for Year 11 now before and after school on Tuesdays.
Two Deep Learning Days – focussing firstly on Mental Health and secondly on The Environment (some muddy trips to the heath ponds were involved!).
St George's Experiments Road Show – Year 10 Healthcare Science and Year 9 Physiotherapy.
Year 7 Christmas workshops at Highgate Chapel.
LaSWAP Open Evening at ABS with boys in Year 11 getting a flavour of opportunities in our sixth form along with families from other schools.
Maths Enrichment with Ms Solea at Highgate School for Year 9.
Visit from Singapore University to see Mr Forrest and other staff as a follow up to the Geocapabilities project. They came to understand more about how universities provide professional development opportunities for teachers in London.
Into Film Trips to BFI and Vue Finchley.
World Book Day art activities.
Christmas Jumper Day – fundraising for Centrepoint and Save the Children on last day of term.
Year 11 Geography Fields Trips at the Mill (see picture below)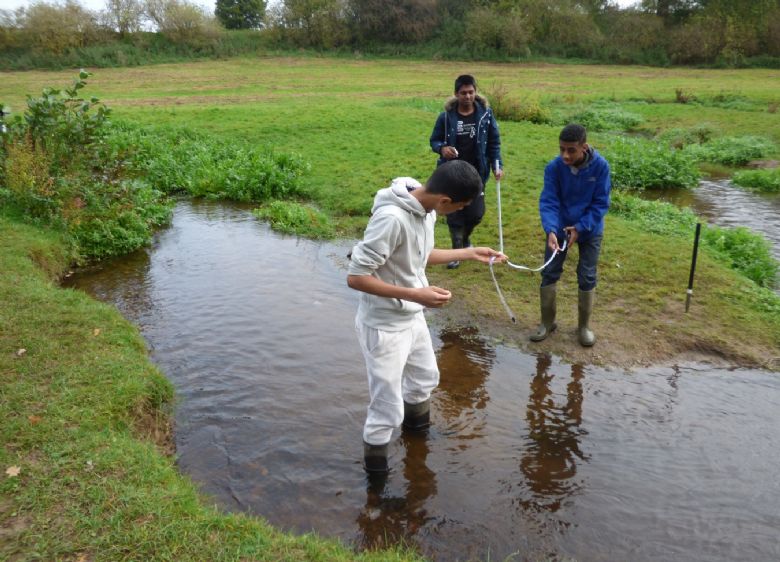 Goodbye!
We are sorry to see three members of staff leave this term – Ms Shaikh who has been Acting Head of Art. She is expecting a baby early in January. She will be replaced in the new year by Ms Kendall, who is known to most as she has worked in our Art Department for some time. Ms Alkunshalie, English Teacher, who is moving to Haverstock School to work in a different role and Mr Williams, TLA who will be pursuing a career in music after a long trip to St Lucia.
We are pleased to welcome in January, Joy Lightman, our new Parent Support Worker.
And Thanks
Our thanks to City Year for all the help they give the school to enable us to run all these extra activities, to WESPA for their support at many of our events and for their fundraising activities and to the staff and students who all give their time to help make the school such a great community.
NEWS FOR PARENTS FROM CAMDEN
Our spring term brochure CLiC (Community Learning in Camden). You can download the most up to date version of CLiC on our website here: http://www.camden.gov.uk/ccm/content/education/adult-community-learning/whats-on-this-term/

We deliver English, Computers, Preparing for employment courses and many more. Courses are delivered in community venues across the borough. Please forward this information onto your clients, networks, learners and contacts as appropriate.

Our popular Everyday Computer Skills Workshops are now offered in various different venues across the borough. Please find attached further information on where they are being held. Alternatively you can find more information here: http://www.camden.gov.uk/ccm/content/education/adult-community-learning/free-computer-workshops.en
All courses are free for adults aged 19+ and give priority to Camden residents.

For more information on Camden Adult Community Learning please visit: www.camden.gov.uk/adultlearning.
We are always happy to discuss the option of running similar courses in different venues to suit your clients.

If you would like to register or ask a question, you can contact the Camden Adult Community Learning team in any of the following ways:

Call: 020 7974 2148
Email: adultlearning@camden.gov.uk
Web: www.camden.gov.uk/adultlearning
Information & Enrolment Day
Wednesday 4 January 2017
(9am - 4pm)
Do you know anyone who would like to join an Adult Community Learning course this month? Send or bring them along to our next Information & Enrolment Day!

Where:
Richard Cobden Learning Centre, Camden Street, NW1 0LJ and
Adult Learning Centre, Netley Campus, 72-76 Stanhope Street, NW1 3EX

To find out where else you can enrol, please contact Camden Adult Community Learning in any of the following ways:

Phone: 020 7974 2148
Email: adultlearning@camden.gov.uk
Web: www.camden.gov.uk/adultlearning
Twitter: @camdentalking
--
Many Thanks
Adebola Adelakun
Adult Learning Information Assistant
Telephone: 020 7974 6259